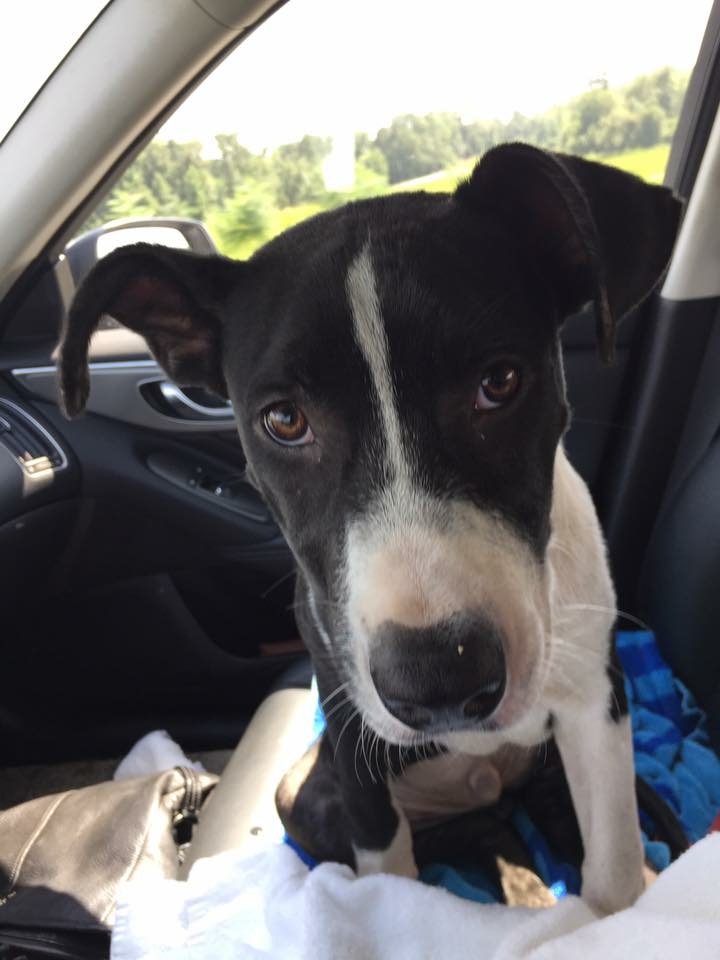 What exactly happens to a pet when it enters the Marlboro County Animal Shelter? And what does the Humane Society do now that they no longer run the shelter?
As you may know, in 2015, the county opened a new Marlboro County Animal Shelter run by the county. The Humane Society of Marlboro County (HSMC) operated the old shelter for 3 years prior, saving the lives of hundreds of dogs and cats. Once the old shelter closed and all the animals were transferred to the new county shelter, the HSMC was able to step out of the very time consuming role of actually operating the shelter (cleaning, feeding, etc) and focus on other areas of need including saving more lives- like Sutton's.
Sutton is a 3 month old black and white puppy who entered the Marlboro County Animal Shelter in June. He was found as a stray. Perhaps he was born to a stray mom, maybe his owners decided they didn't want him anymore or maybe he just got lost. Sutton was vaccinated, dewormed, checked for a microchip, placed in a holding kennel and given food, water and a soft bed by Marlboro County shelter employees.  His photo was posted online. Then he waited.
Happy, playful Sutton didn't know he was homeless or that no owners ever came for him during his 5 day stray hold. He didn't realize that no one ever inquired about adopting him locally, because Marlboro County has a pet overpopulation problem –too many dogs and cats and not enough people willing to adopt.
The HSMC treated Sutton for mange and a skin infection which had caused him to lose patches of hair and develop sores on his little body. The HSMC covers the costs of any medical needs for shelter animals over and beyond basic vaccines including emergencies, heartworm treatments, injuries, surgeries, etc. HSMC volunteers are at the shelter daily giving meds, helping clean the cat room, driving pets to vet appointments and more in an effort to improve the lives of the homeless animals at the shelter.
Finally, in July, Sutton was chosen by a rescue group in Charleston, SC, and a volunteer offered to give him a ride. He was so excited to walk out of the shelter and jump in her car- he knew he was going somewhere special. We call that a Freedom Ride! He is now in a loving foster home where he will remain until he is adopted. Sutton will never be stray or homeless again.
The HSMC operates a highly successful Rescue and Transport Program transferring over 800 pets a year, like Sutton, to rescue groups and no kill shelters in other areas where homeless Marlboro County pets are able to find loving homes. If it were not for these lifesaving transports, many Marlboro County Animal Shelter pets would be euthanized for space. Despite the success of this program, it is a struggle to keep up with the hundreds of unwanted pets who enter the shelter.
And so, an even more important area that the HSMC focuses on is spay/neuter. The only way to reduce the number of homeless pets roaming the streets in Marlboro County is to prevent the births of unwanted litters. Did you know that a low cost mobile spay/neuter clinic visits Marlboro County every two months for two days and offers half price surgeries? These low priced surgeries are sponsored by HSMC. Pet overpopulation is a community issue- please do your part by spaying/neutering your pet. Visit our Facebook page to learn more @humanesocietyofmarlboro.
-Stephanie Jones, Rescue Coordinator
How the HSMC Assists the County Shelter